Professor Hurtt received his Ph.D from Princeton University in 1997. From 1998-2010, Dr. Hurtt worked at the University of New Hampshire in the Institute for the Study of Earth Oceans and Space and Department of Natural Resources, finally becoming Chair of the Natural Resources and Earth System Science Ph.D. Program, UNH's largest doctoral program, and Director the Complex Systems Research Center, UNH's main center focused on Earth System Science. In 2010, Dr. Hurtt joined the University of Maryland Department of Geography as Professor & Research Director, and in 2011 he was named Associate Director of the Joint Global Change Research Institute, and Associate Director of Research Innovations at the National Socio-Environmental Synthesis Center (SESYNC). Previously, he led the international effort on global land-use harmonization for CMIP5, a NASA interdisciplinary science investigation focused on the role of natural disturbances on the Earth's coupled carbon-climate-human system, the UMD/NASA-GSFC Joint Global Carbon Cycle Center, and has served as Chair of the University of Maryland Research Council.  He was a Contributing Author to the IPCC AR5 WG1 Report. Dr. Hurtt is currently involved in multiple collaborative research projects including the North American Carbon Program, NASA's Carbon Monitoring System, DOE's Energy Exascale Earth System Modeling (E3SM) project, and NSF EarthCube. He is co-chair of the Land Use Model Intercomparison Project (LUMIP) for CMIP6, Science Team Leader for the NASA Carbon Monitoring System, Science Team Member for the NASA-GEDI mission, Associate Editor of Global Biogeochemical Cycles, and on the Editorial Board for Environmental Research Letters.  He is Associate Chair in the Department of Geographical Sciences, and Chair of the University Discovery, Creativity, and Innovation Committee. He is the recipient of numerous honors and distinctions including the University of Maryland Distinguished Scholar-Teacher Award.
Areas of Interest
Earth System Science
Climate Change
Cabon
Land Use
Ecology
Mathematical Modeling
Remote Sensing
Degrees
Degree Details

Ecology & Evolutionary Biology, Princeton University, 1997

Degree Details

Ecology & Evolutionary Biology, Princeton University, 1994

Degree Details

Ecology & Evolutionary Biology, University of Connecticut, 1992

Degree Details

Middlebury College, 1990
Teaching Philosophy
Dr. Hurtt's teaching philosophy is rooted in the modern shift taking place in colleges and universities from a "teaching centered" paradigm to a "learning centered" paradigm. To implement this philosophy, his teaching follows "best practice" principles including: student-faculty contact, cooperation among students, active learning, setting high expectations, and respect for diversity. His approach is heavily inquiry based, and emphasizes the identification and use of important science questions to motivate new knowledge, new skills, and discovery through research.
Dr. Hurtt is interested in the structure, function, and dynamics of ecological systems in the context of global change. His primary approach is to combine mathematics and data to develop models for scientific understanding and prediction. He has published on a wide range of topics including: the structure and dynamics of terrestrial ecosystems, latitudinal and elevational gradients in biodiversity, and ocean and terrestrial ecosystem models for use in studies of the global carbon cycle and global climate change. Current research is focused on the development and application of mathematical models to address issues such as: the sustainability of land-use practices and their effect climate, the effects of disturbances on ecosystem structure and function, terrestrial carbon sequestration and MRV, biodiversity and ecosystem services, and interactions between the biosphere, hydrosphere, atmosphere and society.
Service and outreach are essential for the common good, for advancing disciplines and institutions, and for both communicating research and making it more responsive. Dr. Hurtt is actively engaged in multiple service activities across a range of scales from the university, to the state, to nationally and internationally.
Associate Chair, Department of Geographical Sciences

Science Team Leader, NASA Carbon Monitoring System

Co-Chair, Land Use Model Intercomparison Project (CMIP6)

Editorial Board, Environmental Research Letters

Associate Editor, Global Biogeochemical Cycles

Chair, University of Maryland Discovery, Creativity, and Innovation Committee
Current Students
Former Students
Dr. R. Quinn Thomas

Virginia Tech

Dr. Manoel Cardoso

Instituto Nacional de Pesquisas Espaciais, Brasil

Dr. Michael Palace

Institute for the Study of Earth, Oceans, and Space, University of New Hampshire

Dr. Ritvik Sahajpal

University of Maryland

Dr. Justin Fisk

Applied Geosolutions

Dr. Katelyn Dolan

University of Montana/NASA-GSFC

Dr. Steve Flanagan

Tall Timbers Research Station

Dr. Rachel Lamb

Maryland Department of Environment

Dr. Lei Ma

University of Maryland
Related Students (Listed by Student on Student's Profile)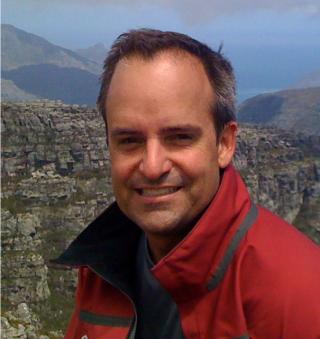 4600 River Road, Suite 300 (send mail to 2181 LeFrak)
Department of Geographical Sciences