I am a remote sensing scientist interested in mapping and understanding forest 3D structure. Earth's forests are incredibly diverse, both in species, function and structure, and and I am interested in how forests occupy space, and how that links to carbon stocks and cycles. My research questions range from applied questions of algorithm development for forest biomass mapping, and ecology questions about the structural diversity of forests at a global scale. 
Areas of Interest
Lidar remote sensing, data fusion, forest biomass, forest degradation.
Degrees
Degree Details

University of Maryland, College Park

Degree Details

University of Victoria

Degree Details

Queen's University
I am a remote sensing scientist interested in forest structure mapping, monitoring, and forest ecology. I use novel remote sensing technologies and methods to further our understanding of forest carbon stock and flux, their drivers and spatio-temporal dynamics. I have worked primarily with LiDAR remote sensing, although also have experience with Landsat, Landsat disturbance products, SAR, and high-resolution optical datasets. I focus on developing and applying techniques that are non-site specific or ecosystem-specific, and am currently engaged on the GEDI science team to help lead the development of empirical biomass equations for GEDI. I am also on NASA's ICESat-2 and ABoVE Science teams working to develop algorithms for mapping boreal forest structure toward global forest carbon accounting. I also serve on NASA's Carbon Monitoring System's Science team and as a co-lead of CEOS's Land Product Validation Biomass sub-group to work toward a consistent international protocol for global biomass product calibration and validation. Beyond forest structure mapping, I am interested in testing ecological theory with remote sensing data, and our group is working toward understanding linkages between forest structure and biodiversity in global protected areas. 
Current Students
Related Students (Listed by Student on Student's Profile)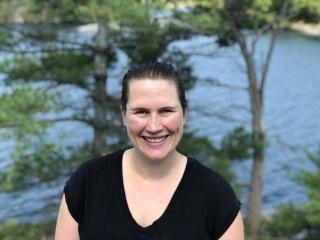 4600 River Road, Suite 339 (send mail to 2181 LeFrak)
Department of Geographical Sciences