The Geographical Sciences Advising Office at the University of Maryland, in cooperation with the University Career Center, sponsors a semi-annual Career/Internship Fair specific to Geographical Sciences, GIS and ENSP students every semester.  Public, private, and non-profit employers attend to seek out potential interns and employees.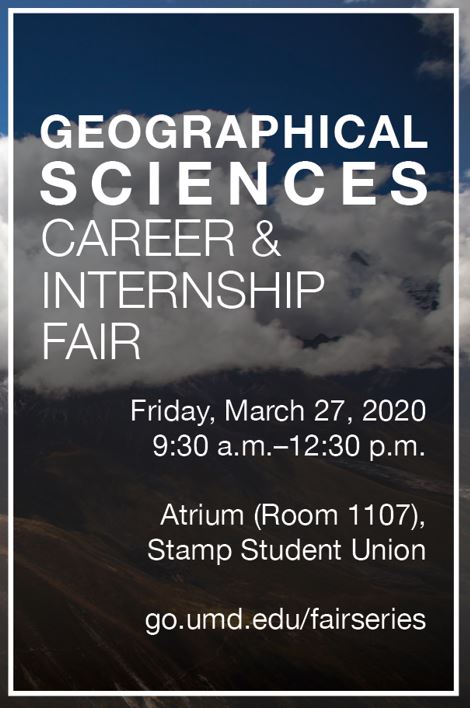 The next Career Fair will be Friday., March 27, 2020 from 9:30 am - 12:30 pm in the STAMP STUDENT UNION ATRIUM, ROOM 1107.
Interested in hiring our students and attending the fair as an EMPLOYER? Click here!
Tips for Students
· Dress to impress! Wear business casual or business attire.
· Bring a few copies of your updated resume! Meet with the Career Center before the fair to perfect your resume.
· Do your research! Gain background insight on the agencies, corporations and organizations to which you will apply. Click here to see a list of organizations attending.
·  Be prepared with an elevator pitch! An elevator pitch is a short (~30 seconds) introduction of yourself, your skills, and why you are interested in a particular agency/company. Be prepared with a question to ask the employer. 
For more Career Fair Preparation, visit the Career Center's Career Fair Prep Page! 
Employers and organizations that have attended the Geographical Sciences Career Fair in the past include (there is no guarantee that these same employers will attend this year):