Students worked with teams in Isreal and San Francisco for training on the Moovit open source system.  On Maryland Day they worked with Moovit staff and MTVu to add the Shuttle-UM system to the app.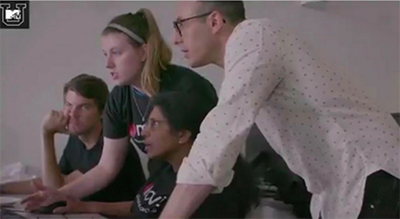 Geography Club
Geography Club is back and better than ever! Join Geographical Sciences undergrads and grad students for cultural potlucks, international movies, charity events and exploratory trips around the DC metropolitan area!
Contact the Geography Club at geogclubumd [at] gmail.com for more information.
The Sustainability Club
The Department of Geographical Sciences' sustainability club, otherwise known as the Geography Sustainability Task Force (GSTF), seeks to improve the efficiency of our consumption and improve working conditions while at the same time reducing our environmental footprint.  We have made small strides such as changing paper usage and reducing power consumption in computer labs, but continue to work on large issues of departmental and building-wide lighting, water, and waste.  Through increased education, awareness, and involvement we look forward to big changes in 2012 and beyond.  The GSTF has, and continues to, consult and work with the University of Maryland Office of Sustainability (www.sustainability.umd.edu).  Future meetings will be posted here and announced through internal departmental emails.
Additional information can be obtained from Evan Ellicott (ellicott [at] umd.edu).