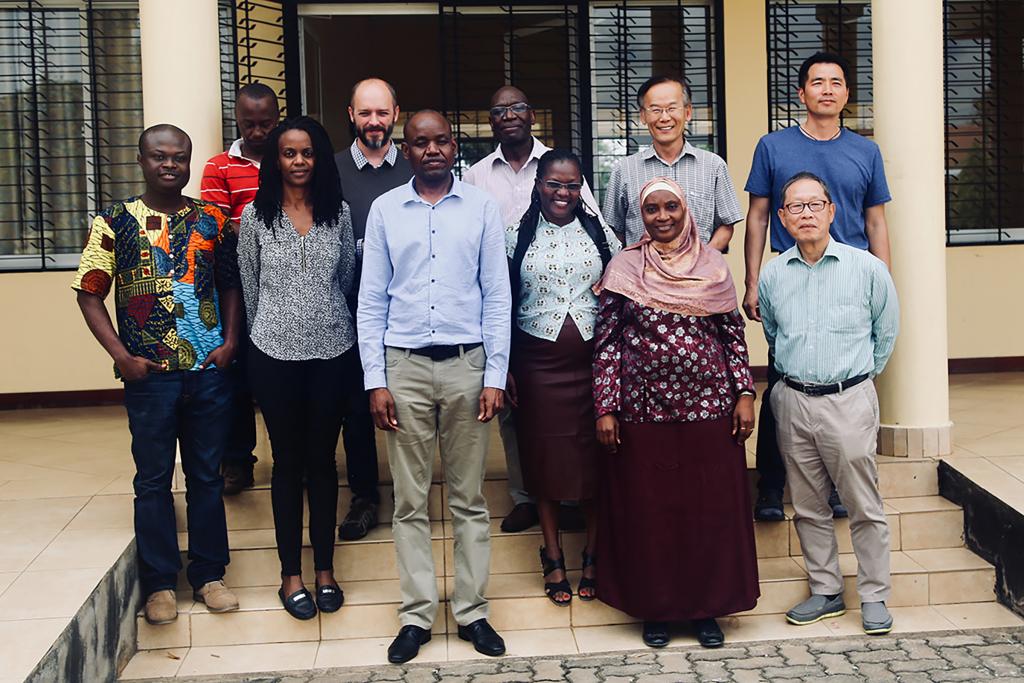 Ministry of Agriculture (MoA) Tanzania is working to improve agricultural decision making and have been working with the University of Maryland since 2014 to use remote sensing data and information to report on crop conditions using the Tanzania GEOGLAM Crop Monitor System and the Global Agriculture Monitoring (GLAM East Africa) system. Agriculture in Tanzania is largely rainfed. Agrometeorological parameters such as rainfall, air, and soil temperature and humidity which influence crop growth and conditions have to be monitored locally especially in remote (rural) areas to ensure timely and appropriate information delivery to decision makers.  However, MoA has not been receiving data from it's 600+ manual stations across the country for about 7 years now. The system as it was designed relied on observers collecting data and sending it on written cards that were mailed every 10 days and at the end of the month. Some stations were reported vandalized and other stations for many complex reasons have not been reporting.
In the framework of the new NASA Harvest Program, the University of Maryland is coordinating a pilot project to design and prototype sustainable agro-meteorological sensors networks. NASA Harvest and project partners ICube (France), WISE-Futures (Tanzania) and MoA are elaborating a concept to develop prototypes working with MoA to automate agromet data acquisition, processing and use within MoA through high-tech solutions combining IoT, cloud processing of Big Data to improve remote sensing based models for crop conditions monitoring inevitably improving agricultural decision making. A main feature of the concept is to ensure local capacity with Tanzania (starting with students at Nelson Mandela African Institution of Science and Technology, Arusha) to build the systems, a cornerstone to sustainability in the long run. If realized, the concept would address the problems associated with of agro-meteorological data acquisition. WISE-Futures students will be involved in the mapping of some stations, the development, and testing suitable agro-meteorological equipment in Tanzania.
The partnership officially kicked-off with a workshop October 8-12, 2018 at Nelson Mandela African Institution of Science and Technology, (NM-AIST) Arusha, Tanzania. Presentations from NASA Harvest, ICube, WISE- Futures, Makerere University's WIMEA project, iTEC from NM-AIST covering expertise and capacities of partners, review of challenges to be address to ensure sustainability of new systems from MoA, a demo of new hi-tech communication sensors and visits of existing field stations belonging to the MoA and to the Pangani River Basin office were carried out.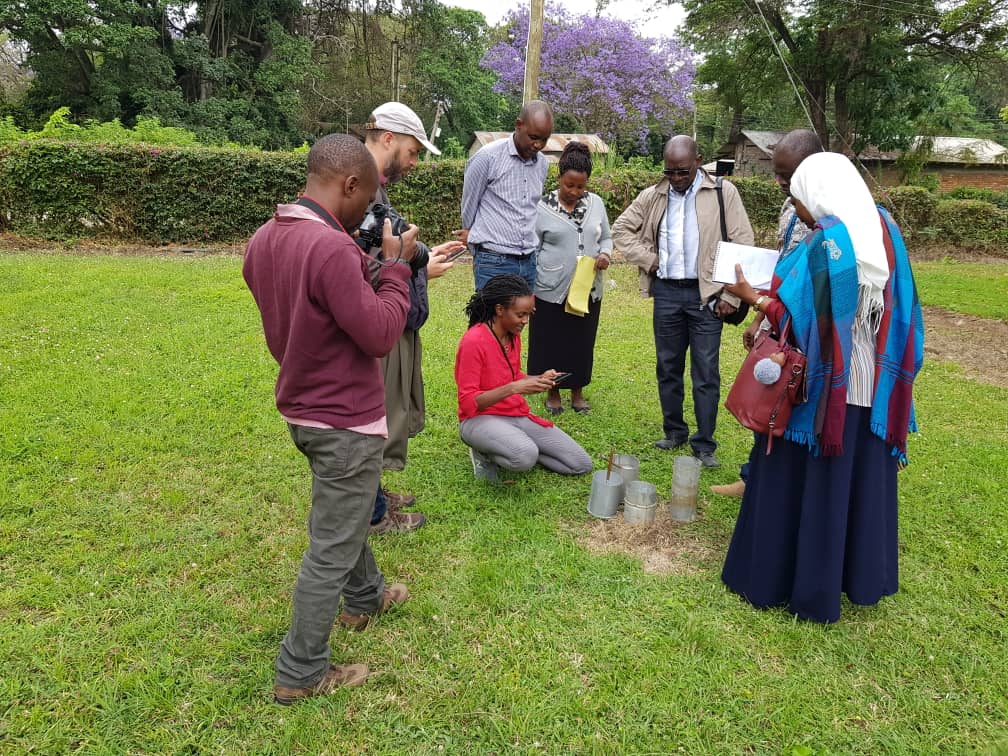 Welcome by  Dr. Hans Komakech [Center Director, The centre for Water Infrastructure and Sustainable Energy Futures (WISE-Futures) at the Nelson Mandela African Institution of Science and Technology (NM-AIST)], NASA Harvest Partner Dr. Catherine Nakalembe [Assistant Research Professor, Department of Geographical Sciences – University of Maryland], presented an overview of the concept and introduced UMD's work on Agriculture Monitoring in Eastern Africa under the NASA Harvest Program. NASA Harvest is a new multidisciplinary Consortium commissioned by NASA and led by the University of Maryland to enhance the use of satellite data in decision making related to food security and agriculture domestically and globally. NASA Harvest's goals include increased food security and resiliency, reduced price volatility and vulnerability, and improved awareness and understanding of the applications of NASA's and other satellite data products by users from a wide range of sectors. NASA Harvest is partnering top researchers, humanitarian aid organizations, economists, policymakers, agribusiness, the financial sector, defense, intelligence, high tech, and other disciplines and sectors to accomplish these goals.
Dr. Komakech introduced WISE-Futures center which aspires to provide an excellent learning environment for training Masters and PhD graduates specializing in water, sanitation and energy-related fields, and promote the collaborative development of cutting edge solutions to water, sanitation and energy challenges in the region. NM-AIST is one of Africa's institution of science and technology formed with a purpose to bridge the gap of education at PhD and master's degree level with a view of improving Africa through education and higher learning.
Ms. Hidaya Senga [Principal Meteorologist, Department of National Food Security, MoA],  presented on the status and use of agromet data by MoA noting that despite the Ministries efforts with support from the Tanzania Meteorological Agency (TMA) and FAO; to obtain detailed and spatially representative data on rainfall they currently receive no data from Ministry's Rainfall stations. Past effort included deploying over 600 stations and an Agrometeorological Monitoring and Information (automated) System in 2009/10. Ms. Senga elaborated that there were several challenges that led to the degradation of these efforts including the complexities of managing observers (costs and training),  high-cost of maintaining physical hardware, vandalism and other location-specific challenges and that, these challenges have to be addressed to ensure sustainability of new systems.
Dr. Jerome Colin  [Research Engineer- ICube/CNRS] followed to present ICube's expertise on smart wireless sensors for the environment developed with Raphaël R. Luhahe [Research Engineer- ICube/ Université de Strasbourg], and Guillaume Schreiner [Research Engineer- ICube/ Université de Strasbourg]. The Engineering science, computer science and imaging laboratory (ICube) brings together researchers of the University of Strasbourg, the French National Center for Scientific Research (CNRS), the ENGEES and the INSA of Strasbourg in the fields of engineering science and computer science, with imaging as the unifying theme. With around 600 members, ICube is a major driving force for research whose main areas of application are biomedical engineering and the sustainable development. The INetLab platform of the ICube Laboratory develops cutting-edge wireless technologies and communicating sensors for smart cities, smart industries and environmental monitoring applications. In the perspective of early warning systems, these technologies are of primary interest to implement dense networks of sensors monitoring in near real-time key meteorological variables for MoA.
Dr. Colin presented on The INetLab platform that's part of a national workbench infrastructure for IoT, wireless sensors and communication protocols including providing facilities for national and international experiments and of interest to MoA wireless meteorological sensors prototyping based on open hardware based and radio communication technologies. He showed some application examples of their work including 1) dense networks of micro-meteorological sensors for urban climate studies, 2) multi-hop self-organized mesh network with 20 nodes and one sink for temperature or humidity, 3) monitoring building temperature,  light, noise etc and LoRa data transfer. The ICube laboratory not only design sensors but also cover measurements. And have demonstrable experience in delivering data from the field to the end user. ICube hope to contribute to review existing or needed sensors specifications, the design of sensor cases or housing, radio technologies, data gathering integrity and quality, prototyping among other activities.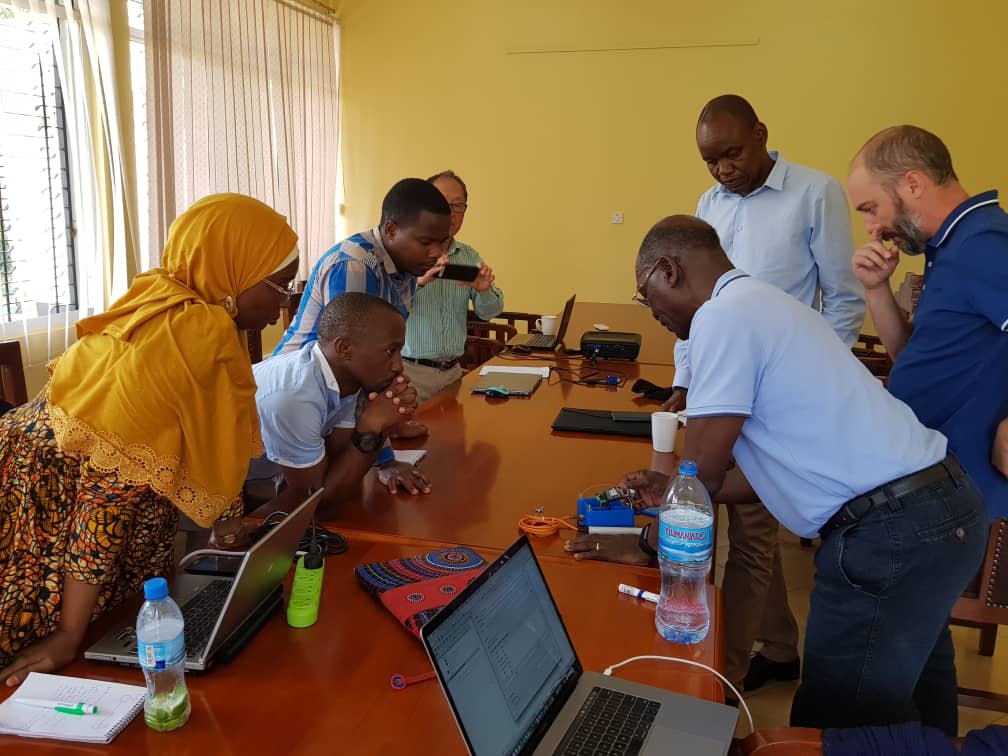 Dr. Julianne Sansa Otim a faculty member of the College of Computing and Information Sciences at Makerere University shared her experiences and lessons learned from WIMEA-ICT Project. The five year (2013-2018) project is a cooperation between Makerere University in Uganda (host institution), Dar es Salaam Institute of Technology (DIT) in Tanzania, the University of Juba in South Sudan and the Geophysical Institute of the University of Bergen in Norway. The WIMEA-ICT Project was started in 2013 with funding from the Norwegian Agency for Development Cooperation (Norad) to improve the accuracy of and access to weather information by the communities in the East African region through suitable ICTs for increased productivity (in the agricultural, energy, water resources and construction sectors) and safety in the aviation, disaster management, fishing, health, mining and defense sectors by setting up affordable automatic weather stations (AWS). Nine automatic weather stations have been deployed so far while arrangements for 61 other deployments are underway so as to hit the total target of 70 automatic weather stations distributed in Uganda, Tanzania, and South Sudan. The automatic weather stations are powered by solar panels which charge lithium rechargeable batteries. Students have benefitted from this project by getting necessary skills in assembling and installing automatic weather stations which also brings the cost of labor down (students are not given salary but facilitated to do project work). One of the success stories of the project is the implementation of FarmSms which is an SMS application developed in a collaboration between DIT and TMA with support from WIMEA-ICT. The FarmSms application sends daily weather forecast reports targeting farmers to help them make informed farming decisions. A data aggregation interface for the whole network of automatic weather stations is being built now. The project can be beneficial to our efforts in deploying sustainable hi-tech automated agro-meteorological stations for improved Ag-decisions in East Africa owing to their experience in local assembly and deployment of automatic weather stations. The biggest challenge for the project is the sustainability of installed automatic weather stations and a source of funding to meet charges for sending SMS (FarmSms), especially after project closure.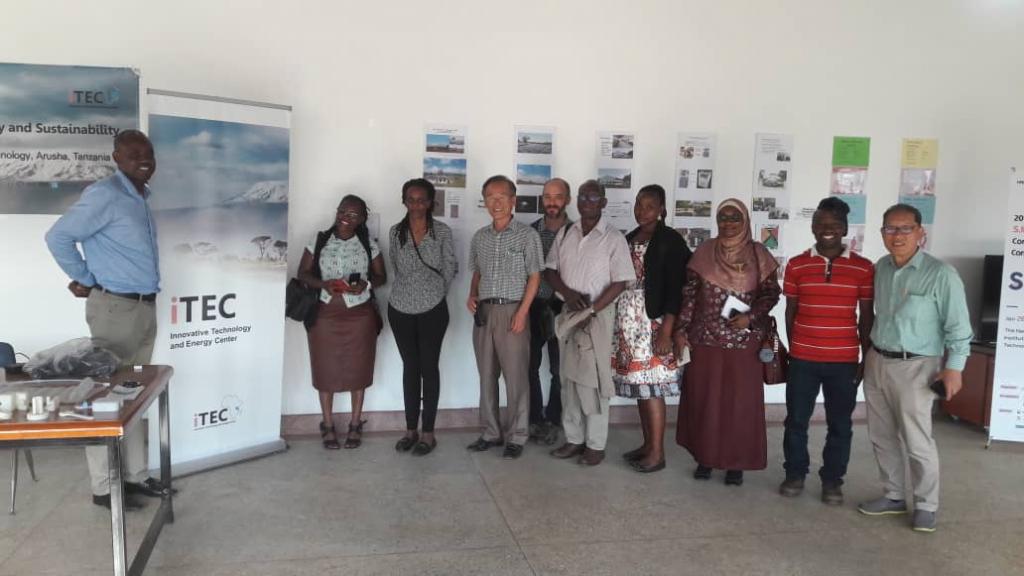 Director Herb Rhee introduced The Tanzania-Korea Science and Technology Center, Innovative Energy Technology Center (iTEC) hosted at the Nelson Mandela Africa Institution of Science and Technology. ITEC-Tanzania was established to develop, educate and come up with innovative appropriate sustainable technology for renewable energy power generation, water sourcing for agriculture irrigation and crop packaging (low power packaging and storage) for poor households in Tanzania. iTEC seeks to make interventions to upgrade standards of living for rural poor households through Renewable Energy Generation, Modern Agriculture Technology, Public Health/Water, Vocational Training and Business Development. This project has put in place a solar power plant in Mkalama village in Arusha, Tanzania using equipment provided by the Korean Government. Households enrolled onto the solar power grid pay Tzs 5000 as fees for solar power per month and are provided with 3 lights and one socket for each house while the solar project manager gets Tzs 100,000 per month in each village. Appropriate plans have been made for sustainability of village solar power project since the fee charged per household every month is saved into a bank account. The money collected in power fees will, in turn, be used to procure and replace solar batteries after 3-5 years (battery costs $ 15,000) and solar panels after 20-35 years. We can install automatic weather stations in villages (for the case of Tanzania) where iTEC has installed solar panels since we are sure of the security of the sites because iTEC has not reported any case of vandalism at any of their solar plants.
Workshop Participants:
Name

Title/ Organization

Dr. Catherine Nakalembe

Meeting Coordinator

Assistant Research Professor, University of Maryland

NASA Harvest East Africa Hub-Lead

Dr. Hans Komakech

Center Director, WISE-Futures

Nelson Mandela African Institution of Science and Technology

Dr. Jerome Colin

Research Engineer- ICube/ CNRS

Raphaël R. Luhahe

Research Engineer- ICube/ Université de Strasbourg

Dr. Julianne Sansa Otim

Senior Lecturer,

College of Computing and Information Sciences

Makerere University, Kampala Uganda

Herb Rhee

Director Tanzania-Korea Science and Technology Center,

Innovative Energy Technology Center (iTEC), Nelson Mandela Africa Institution of Science and Technology

Kunik Lee

Research Engineer, Tanzania-Korea Science and Technology Center,

Innovative Energy Technology Center (iTEC), Nelson Mandela Africa Institution of Science and Technology

Hidaya O. Senga

Agrometeorologist, Tanzania Meteorological Agency and Ministry of Agriculture Tanzania.

Swalehe Masoud

Researcher, Anadolu University

Isaac Labi

Visiting Researcher, WISE-Futures

Nelson Mandela Africa Institution of Science and Technology

Adam Mawenya

IT Manager, Nelson Mandela Africa Institution of Science and Technology

Guudence Mathew

Electrical Engineering Student, WISE-Futures

Nelson Mandela African Institution of Science and Technology