Dr. Catherine Nakalembe, Assistant Research Professor in the Department of Geographical Sciences and Africa Lead of the NASA Harvest Consortium, has received worldwide media attention for her capacity building efforts to increase food security in Eastern Africa and beyond. She travels the world conducting trainings on the use of satellite data tools for agricultural monitoring, working with farmers and government agencies to build timely and accurate crop monitoring systems, and helping enable policy-makers to better equip their governments to handle food shortages. Dr. Nakalembe has broad interests ranging from agricultural remote sensing to food security to climate change.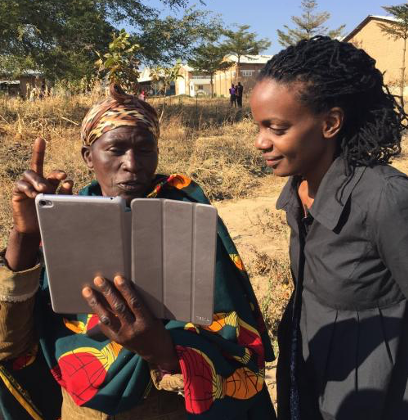 She works with national ministries of agriculture in Kenya, Rwanda, Tanzania, Uganda, and Mali and regional agencies such as ICPAC and RCMRD, also engaging with development partners including LWR, World Bank, UNDP, JRC, FAO, WFP, and FEWSNET. Catherine pioneered the repurposing of unmanned aerial vehicles (UAVs) from agricultural monitoring to the survey of major refugee resettlements in Uganda.
Due to her tireless efforts and work specifically throughout the Eastern Africa region, Dr. Nakalembe has recently been featured by NASA Earth as an "Innovator in International Food Security" as well as highlighted by Phys.org for her global involvement in agriculture and food security as well as her and her research team's efforts to conduct crop health assessments using machine learning. As a Ugandan native, mother of twins, and committed scientist, Dr. Nakalembe is passionate about food security in her home country.