Keith Yearwood was recently honored by his alma mater, the University of Florida, with their Urban & Regional Planning Distinguished Alumnus of the Year Award. Dr. Yearwood is a Lecturer in the Department of Geographical Sciences at the University of Maryland and is a National Geographic State Geography Steward for the State of Maryland. He recieved his MA and PhD from the University of Florida.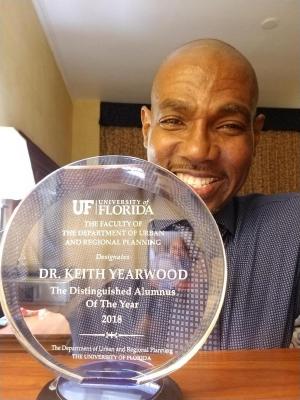 While Dr. Yearwood was visiting Gainsville to accept his award, he was invited to present a talk titled "Grey vs. Green: Adapting to Sea Level Rise in the Coastal Zone." He discussed the mounting vulnerability of low-lying coastal areas due to sea level rise and responses for reducing vulnerability and increasing coastal resilience. He also examined the scientific factors that contribute to sea level rise, and the known and potential impacts upon vulnerable coastal areas. In asking "How could we or should we respond?", Dr. Yearwood reviewed possible short term and long-term responses, such as green and grey measures, and presented on how the Dutch are leading the way in the fight aainst the encroaching sea. 
Congratulations Dr. Yearwood!