On July 7th, 2014 a Memorandum of understanding (MoU) was signed between Vietnam National University in Hanoi, and the University of Maryland. Specifically, the MoU formalized a research collaboration between VNU University of Engineering and Technology, and the Department of Geographical Sciences at UMD. UMD's efforts were led by Dr. Chris Justice and Dr. Mengzue Li. The original collaboration with VNU followed a visit to the department from VNU president Mai Trong Nhuan in 2011. Since the initial visit we have installed the UMD MODIS-based Fire Monitoring system (FIRMS) and a MODIS ground station.
Recently, VNU and UMD have been seeking to expand the research collaboration to a broader interdisciplinary areas in Vietnam in the areas of land cover/use applications, disaster management, air quality monitoring, and more. As part of this collaboration, researchers from both universities have co-hosted or facilitated international meetings on the above subjects and more. Two example, are the Air Pollution/Air Quality Workshop in Hanoi, Vietnamin 2014 hosted at VNU; and the International Meeting on Land Use and Emissions in South/Southeast Asiain 2016 which took place in Ho Chi Minh City, Vietnam which was co-sponsored by a number of partners including NIES Japan, START, SARI, and others. These workshops were designed to strengthen regional research activities in Asia and Vietnam specifically on the above science topics with focus on collaborative research among international and in-country researchers.
As part of such collaboration, the UMD's Department of Geographical and VNU's University of Engineering and Technology, have undertaken research on crop biomass burning emissions in Vietnam. The research coordination was led by UMD's Dr. Chris Justice, Dr. Krishna Vadrevu(NASA/UMD),Kristofer Lasko(UMD), as well as Dr. Nguyen Thi Nhat Thanh (VNU), Dr. Bui Quang Hung (VNU), and PhD candidate Tran Tuan Vinh (VNU). As part of Kristofer's PhD research, collaborative fieldwork characterizing rice residue burning in Vietnam was conducted with results suggesting satellite data and emission inventories may be significantly underestimating rice residue burning emissions especially in peri-urban areas of Vietnam. These findings suggest a stronger need to for region-specific emission mitigation for air quality concerns. The results of this research collaboration were recently accepted for publication in Environmental Research Letters.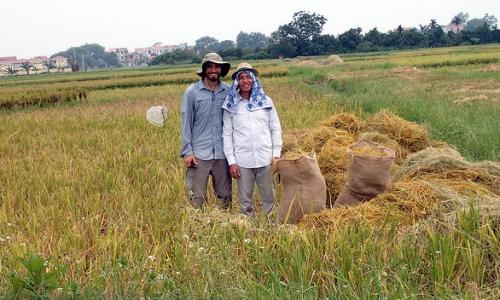 Kristofer Lasko and Tran Tuan Vinh conducting fieldwork in the rice paddies near Hanoi, Vietnam
Building upon the same topic, VNU UET was recently awarded a competitive grant from the Vietnam National Foundation for Science and Technology Developmentin collaboration with the Department of Geographical Sciences in order to continue the above research topic in-country with local researchers. The research is funded for three years and focuses on emission factors, emission inventory, and impact assessment on air quality from rice straw burning in Hanoi, Vietnam.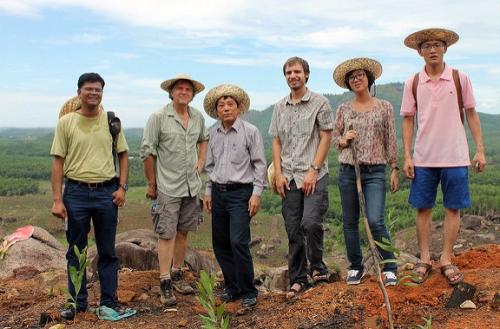 GEOG and VNU researchers exploring a recently burned hillside in Vietnam.
UMD is continuing to foster collaboration with other scientists in Southeast and Vietnam focusing on land cover/land use change applications and monitoring.