Areas of Interest
rural livelihoods
sustainable agriculture
conservation social science
mixed methods research
inequality and the environment
impact evaluation
Degrees
Degree Details

International Development and Management (LUMID), Lund University

Degree Details

Diplomacy and World Affairs, Occidental College
Awards
2018-08-01

Dean's Fellowship

2021-06-01

UMD GEOG Human Dimensions of Global Change Summer Research Fellowship

2021-05-01

Dean's Research Initiative Grant
Conferences
"Outcomes of Sustainable Waste Management Initiatives – a Systematic Review." Presented at the National Meeting of the American Association of Geographers, Washington D.C., April 3-7, 2019.

"No Plastic in Nature – Preventing secondary sources of microplastics in the environment." Presented at the workshop on Environmental Health Effects of Microplastics. The National Academies of Sciences, Engineering and Medicine. Washington D.C., January 2

Traldi R., Silva J., Potapov P., and Tyukavina A. "Tapping in or tapping out? Economic inequality dynamics, rubber, and voluntary sustainability programs in Lao PDR." Presented at the International Congress for Conservation Biology 2021, December 13-17.
Research
Traldi, Rebecca. 2021. "Progress and Pitfalls: A Systematic Review of the Evidence for Agricultural Sustainability Standards." Ecological Indicators 125 (June): 107490. https://doi.org/10.1016/j.ecolind.2021.107490.
Biffi, Sofia, Rebecca Traldi, Bart Crezee, et al. 2021. "Aligning Agri-Environmental Subsidies and Environmental Needs: A Comparative Analysis between the US and EU." Environmental Research Letters. https://doi.org/10.1088/1748-9326/abfa4e
Edelson, M., D. Håbesland, and R. Traldi (co-firsts). 2021. "Uncertainties in Global Estimates of Plastic Waste Highlight the Need for Monitoring Frameworks." Marine Pollution Bulletin 171 (October): 112720. https://doi.org/10.1016/j.marpolbul.2021.1127
Research Topics
Human Dimensions of Global Change - Coupled Human and Natural Systems
Campus

Pod Leader, URGEOSCIENCE: Unlearning Racism in Geoscience, UMD Dept. of Geographical Sciences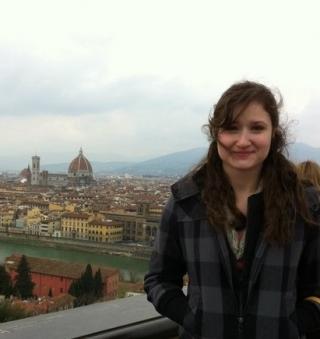 Email
rtraldi

[at]

terpmail.umd.edu