Sam holds a bachelor's degree in Ecology and Evolutionary Biology from the University of Tennessee and a master's degree in Environmental Management from Christian-Albrechts-University of Kiel, Germany. For his master's thesis, he incorporated both Landsat and statistical data to quantify the change in the amount carbon stored in the landscape as a result of urban development, namely "urban sprawl", around the rural-urban region of Leipzig, Germany. His current research interests include utilizing remote sensing and modeling for investigations into the carbon cycle in relation to climate change, human environment interactions and strategies for sustainable development.
Degrees
Degree Details

Environmental Management. Christian-Albrechts-University of Kiel, Germany.

Degree Details

Ecology and Evolutionary Biology. University of Tennessee, Knoxville.
Research Topics
Geospatial-Information Science and Remote Sensing
Human Dimensions of Global Change - Coupled Human and Natural Systems
Land Cover - Land Use Change
Carbon, Vegetation Dynamics and Landscape-Scale Processes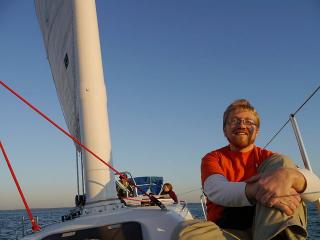 1150
Department of Geographical Sciences