Four graduate students from the department of Geographical Sciences traveled to San Salvador, El Salvador from March 17th to the 24th, 2018 to establish communication channels with Salvadoran universities interested in developing their academic and research capacity. Two different universities eagerly opened their doors - the Universidad Jose Matias Delgado (UJMD) and the Universidad de El Salvador (UES), known as the National University. Overall, faculty and researchers at both universities recognize the urgency of advancing applied research in GIS and remote sensing to anticipate and mitigate severe climate-related and anthropogenic impacts. The Geographical Sciences team consisted of PhD students Matthew Cooper, Suzanne Marselis, Alison Thieme, and Daniel Teodoro. In addition, a solutions engineer, Ariel Walcutt, and a sustainability transitions specialist, Ilonka Marselis, joined the group in their adventure.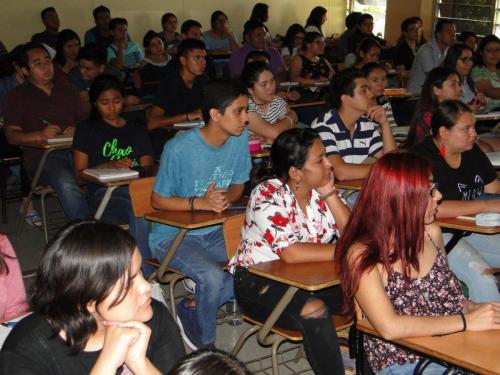 At UJMD, Daniel presented on the adaptive comanagement framework that promotes stakeholder participation in an ecosystem of interest. Alison presented on land cover change observations from space. Suzanne presented on Lidar data and their benefits for mapping 3D vegetation, and Matt presented on "rasters and pixels" and how field surveys can be analyzed together with land cover data. On the last day at UJMD, the Geographical Sciences team had an official meeting with faculty and the Dean of the College of Agriculture and Agricultural Research, Georgia Gomez de Reyes, who after discussing their aspirations for partnerships granted our team certificates of honor for delivering lectures.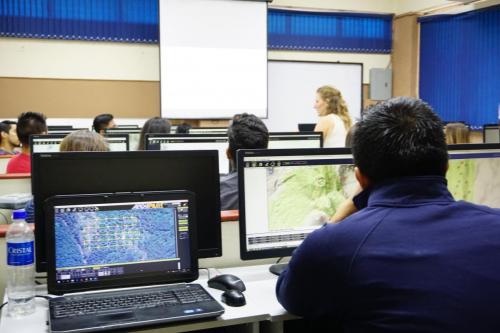 At UES, the Institute of Marine and Limnology Sciences (ICMARES) organized a two-day workshop entitled "Geographic Data Analysis." 39 participants enrolled including undergraduate students from different disciplines, professors, registered researchers, and government agency and NGO representatives. In these sessions, Matthew Cooper guided participants through raster and vector analysis using open-source software (QGIS) and geographic data analysis using R scripting. Alison presented geographic data sources and how to download products from UMD, NASA, and ESA for spatial analysis. Suzanne taught the participants how to use drones to develop 3D topographic models. Participants were satisfied with this short course and were left wanting for more. At the conclusion of this event ICMARES, together with the university research projects manager, granted certificates of attendance to all participants.
A video documenting the student's journey can be found on YouTube!  Continue reading below for quotes from the students involved.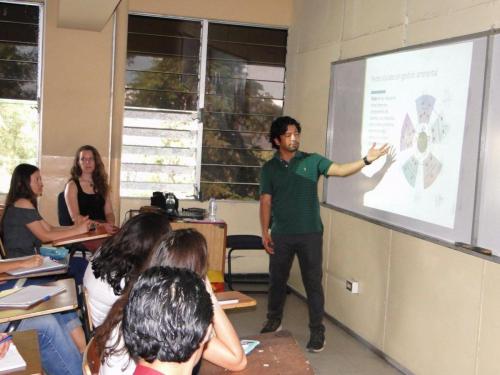 Daniel Teodoro:
The overarching purpose of this initiative was to promote geographic thought and research in El Salvador; a country struggling with environmental problems, water scarcity, and poverty among others. The department of Geographical Sciences produces quality research that can be properly utilized to inform development in agricultural-based economies and climate-vulnerable regions of the planet. Overall, this trip was very successful at accomplishing its goals. I am grateful to the department for having entrusted in me the capacity to implement this activity.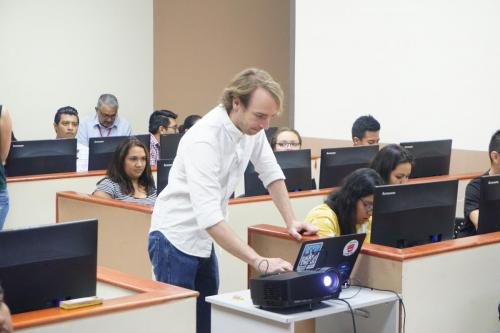 Matthew Cooper:
The El Salvador trip was eye-opening and rewarding.  I learned a lot about El Salvador: the major crops and livelihood systems, the history (particularly the civil war), as well as current environmental issues like water shortages and overfishing.  During our GIS trainings, I was also struck by how keen students and faculty were to learn these skills, particularly more advanced GIS skills like coding and working with drones.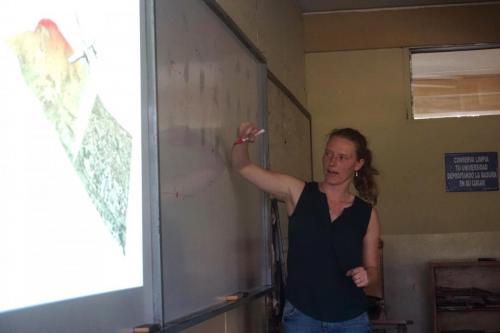 Suzanne Marselis:
I am really happy I was able to be part of the GSO El Salvador trip. I got to know a country in a way I had not seen it before, connecting with university students at two different universities enabled me to get a look into the youth of El Salvador. I saw students that are ready to learn, ready to apply their knowledge and to make a change, to save their country from the image it has now and provide a better future for their families and all citizens. It was a privilege and a pleasure to teach to students that were so engaged and eager to learn and I am excited to see what fruitful collaborations can be formed in the future based on this first exploratory experience.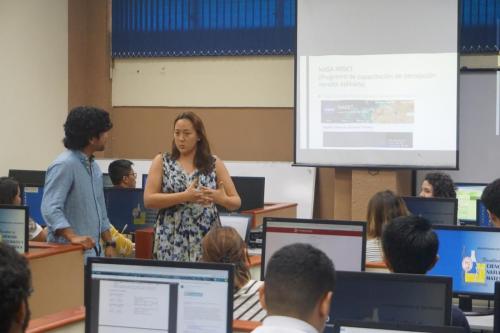 Alison Thieme:
I thought our experiences in El Salvador were overwhelmingly positive. The classes and trainings with ICMARES and UJMD were a great opportunity to get lecture and presentation experience. Faculty responses from both universities show a desire to expand their use of GIS and remote sensing while establishing a more formal partnership with UMD. My experiences teaching, exploring, and learning in El Salvador were valuable both in an academic and personal perspective. I hope to be a part of continued collaboration in the future.