NASA Harvest and Kenya's Ministry of Agriculture are working on a framework for regional crop yield data collection.
Across East and Southern Africa, there persists a critical gap in available crop analytics — specifically, a lack of robust and readily available field data collection to support model development, evaluation, and validation. This gap exists because most countries in Sub-Saharan Africa do not conduct consistent and timely yield assessments. Additionally, data from typical agricultural censuses are rarely directly usable for crop-yield estimation and evaluating remotely sensed or derived yield estimates.
To address this gap, the NASA Harvest team at the University of Maryland (UMD) in support of AGRA's Regional Food Balance Sheet (RFBS) initiated the "Developing a Framework for Regional Yield Data Collection" project, supported by the Enabling Crop Analytics at Scale (ECAAS) initiative. The project builds on the success and lessons learned from ECAAS Phase-1 project.
In July 2023, the NASA Harvest team hosted a weeklong workshop in the University of Maryland, with participants from the Kenya Ministry of Agriculture (MoA), Kenya Space Agency (KSA), and other key stakeholders. The workshop aimed to assess lessons from ECAAS Phase-I in Tanzania, understand national and regional data collection approaches, review the sampling framework design, plan a maize yield data collection campaign, and discuss sustainable data collection strategies with partner institutions.
The UMD NASA Harvest program team was led by GEOG Assistant Professor Catherine Nakalembe, with support from senior faculty specialist Taryn Devereux and faculty specialist Diana Botchway Frimpong, graduate assistant Adebowale Adebayo, and faculty specialist Isha Asalla. Participants included Jane Kioko and John Juma Katana from the Kenya MoA; Kennedy Ogora from the MoA Crop Insurance Programme; and Peter Okello and Esther Maina from KSA. Also in attendance was Kenneth Mwangi from IGAD Climate Prediction and Application Center. 
Guests included Professor Christopher Justice, chief scientist for NASA Harvest, John Keniston, UMD senior faculty specialist, and GIS specialist for NASA Harvest Dr. Garik Gutman from NASA Land Cover and Land Use Change (LCLUC).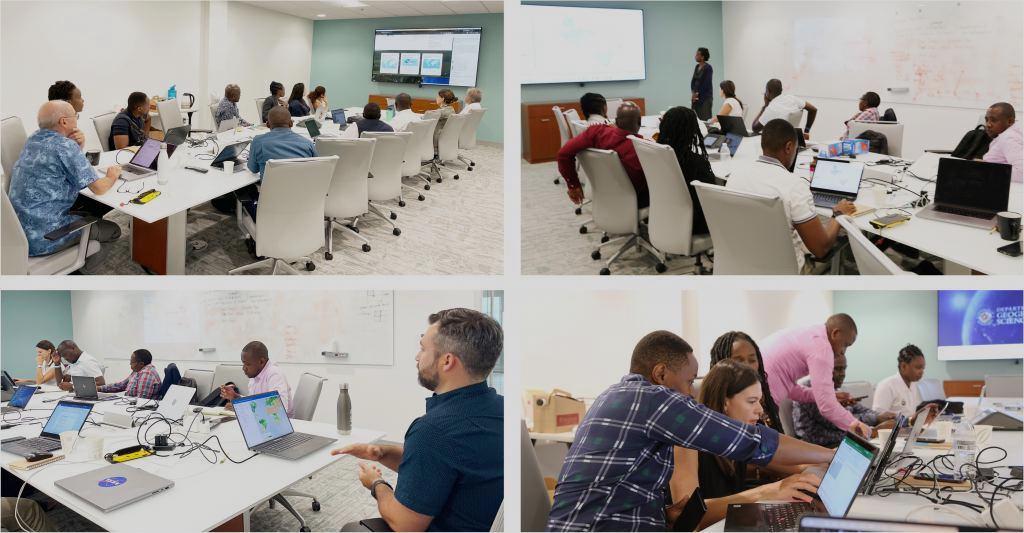 For sustained impact, the NASA Harvest team is motivated to work closely with the Kenya Ministry of Agriculture to leverage their nationwide extension agent network for local data collection. This means collaborating with county extension agents to conduct nationwide surveys using a customized OpenDataKit form to ensure representative sampling. The resulting data will support the development and evaluation of the 2022 maize yield map and estimates. In light of that, the NASA Harvest team plans to travel to Kenya to hold a collaborative workshop engaging the Ministry of Agriculture and county extension teams.

The ECAAS project will continue through October 2023, with plans to expand its sampling framework to Kenya and three other countries (Uganda, Tanzania and Zambia) in the future. Ultimately, the project's long-term goal is to create a robust dataset integrating satellite and ground observations that could help the Ministry assess crop performance, benefit the Crop Insurance Programme, and validate other yield forecasting models.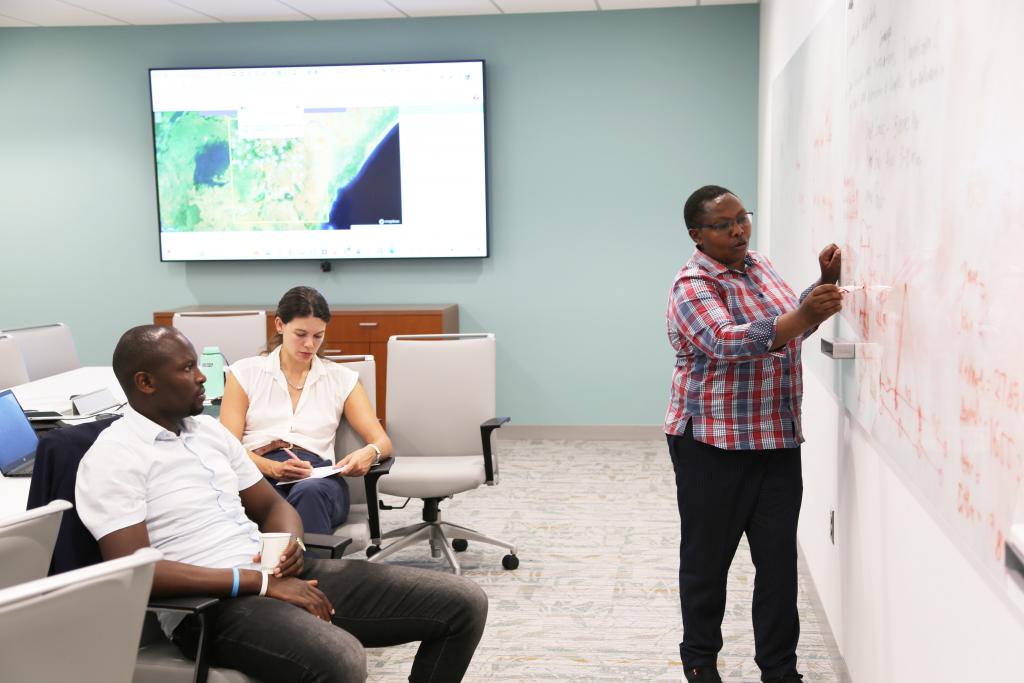 Main image: Participants from the July 2023 ECAAS workshop hosted by NASA Harvest at the University of Maryland. Pictured left to right: Catherine Nakalembe, UMD; Diana Frimpong, UMD; Kennedy Anahinga, Kenya Ministry of Agriculture; Esther Maina, Kenya Space Agency; John Juma Katana, Kenya Ministry of Agriculture; Taryn Devereux, UMD; Jane Kioko, Kenya Ministry of Agriculture; Peter Okello, Kenya Space Agency. Courtesy of Daniel Adebowale Adebayo.
Article by Assistant Professor Catherine Nakalembe