Last week, the Department of Geographical Sciences honored 27 local high school students for their outstanding academic and extracurricular achievement in the geographical sciences and related subjects at its inaugural High School Recognition Banquet. The students, hailing from high schools in Prince George's and Montgomery Counties, were invited along with their families, friends, and teachers for an evening of mingling, learning, and celebrating at UMD. 
The purpose of the event was twofold: to recognize and celebrate the students for their exemplary work, and to introduce them to the diverse and growing opportunities in the field of geographical sciences. "While many students come to UMD interested in topics such as computer science, environmental science, and economics, few are aware of geographical sciences, which draws on all of those subjects and more," said Undergraduate Director Keith Yearwood. As a result, many students miss out on the GEOG Department's unique academic, research, and career offerings. 
To address this issue, Associate Chair George Hurtt and a team including Yearwood, Faculty Specialist Valeria Morales, Outreach Coordinator Catherine Miranda, former Undergraduate Director Amanda Hoffman-Hall, and Assistant Director of Academic Programs Rachel Haber developed the High School Recognition Banquet to introduce the geographical sciences to talented local high school students who might enroll at UMD in the near future.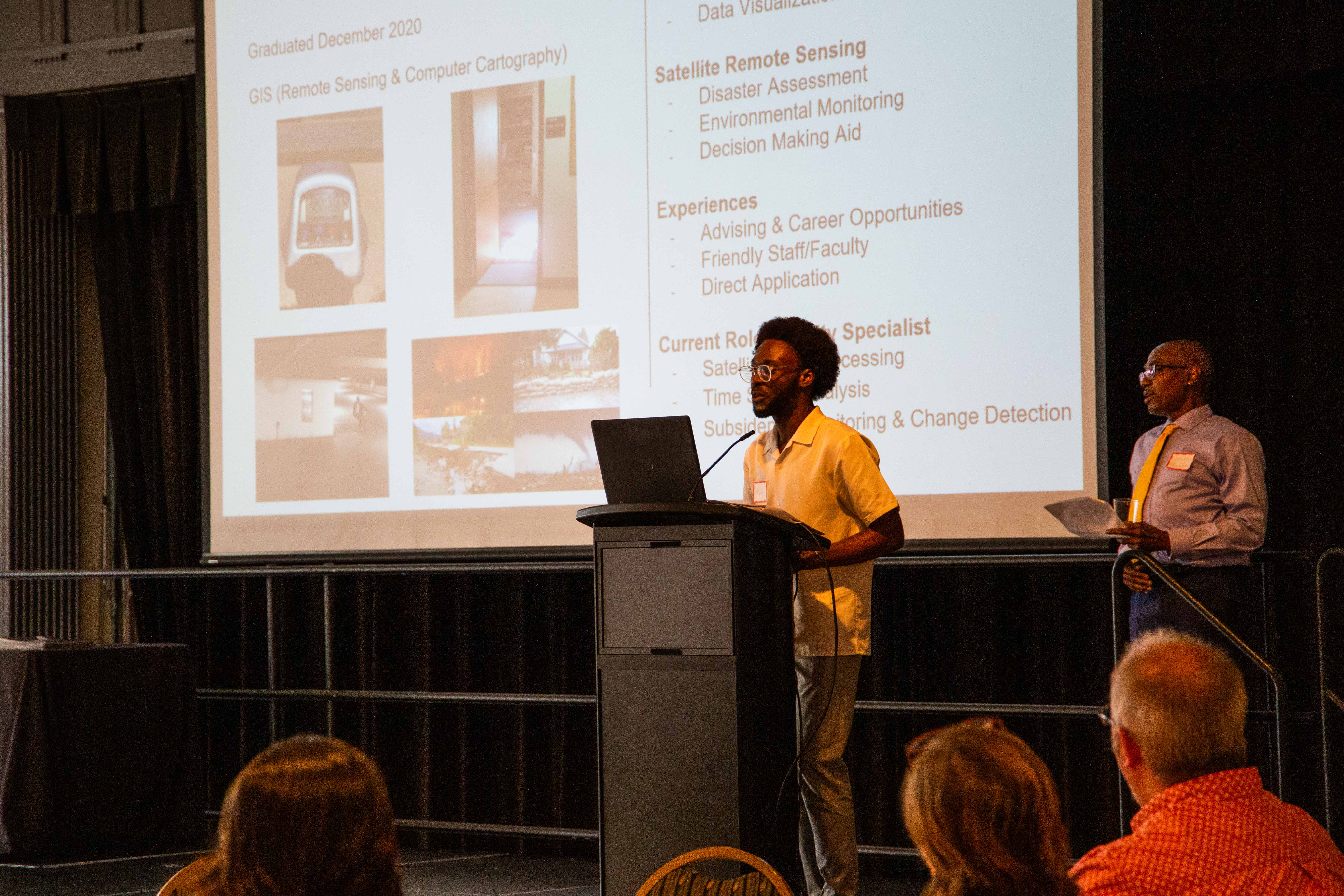 The first-of-its-kind event was a resounding success, with a turnout of over 100 guests, including participants from 12 Prince George's and two Montgomery County schools. Following a buffet dinner and opening remarks by Associate Dean Katherine Russell, several GEOG faculty and students spoke about their experiences with the Department and emphasized that geography is about more than maps and state capitals: "Geographical sciences is focused on some of the biggest and most significant questions facing humanity and the planet," said Hurtt, who went on to discuss advanced geographic technologies and the large range of job opportunities in the field. During the latter half of the event, high school awardees were invited onto the stage to accept their award and enjoy a moment in the spotlight as proud parents, teachers, and friends smiled and took advantage of the photo-op.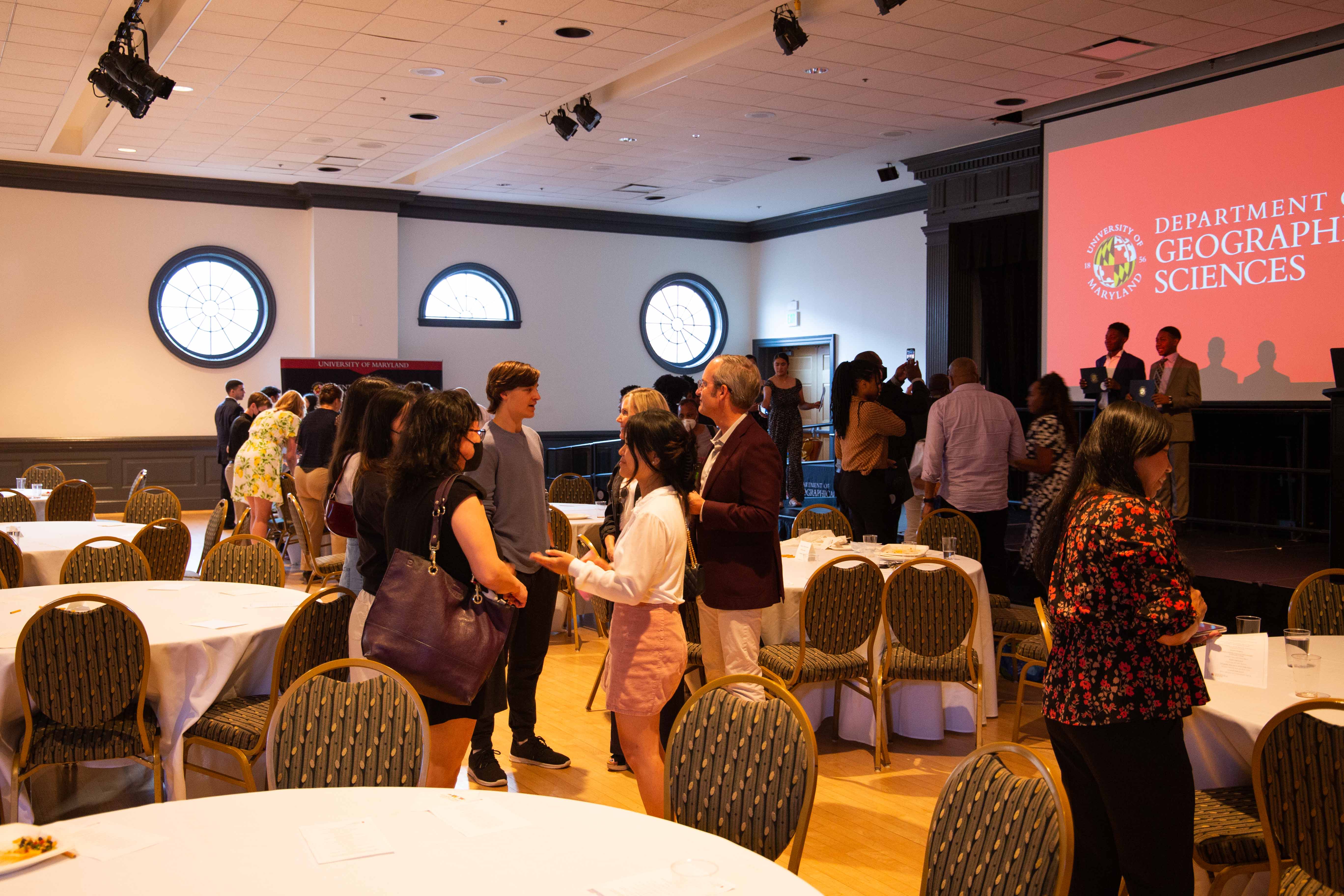 Congratulations to all student awardees (listed below by school) and thank you to all participating schools, students, families, teachers and staff for making this a night to remember! In addition, thank you to all GEOG volunteers and to the BSOS Deans for their support of this event. The Department looks forward to hosting this event annually and hopes to expand its scope to include more schools and students in the coming years. 
2022 Winners:
Academy of Health Sciences at Prince George's Community College
Cayman Curry and Dorian Mkam
Bowie High School
Cara Craig and Afsah Kamran
Chesapeake Math and IT North High School
Emanuel Miranda Mota and Isaiah Ortiz
Crossland High School
Allison Hinojosa and Chukwuebuka Ogbodo
Duval High School
Giivuii Frazer and Esther Oso
Eleanor Roosevelt High School
Asha Verma and Sigthor Waguespack
Fairmont Heights High School
Karen Velasquez and Katie Velasquez
High Point High School
Emily Flores and Francesca Londol
International High School at Largo
Johana Garcia and Naveed Jaheed
Largo High School
Adara Brown and Colby Sullivan
Northwest High School
Ryan Coleman and Maria Dixon
Northwestern High School
Melissa Corado and Vanessa Larios
Poolesville High School 
Anniee Fang
Suitland High School
Trevion Bagley and De'Ja Lyles