Dr. Christopher Justice, Chair of the Department of Geographical Sciences, has been awarded NASA's Distinguished Public Service Medal. This is NASA's highest form of recognition awarded to non-government individuals whose distinguished services and mission has directly contributed to the advancement of NASA's objective for the United States. This is one of NASA's most prestigious distinctions and following rigorous review of all highly-qualified nominees, the Distinguished Public Service Medal has been approved and awarded by NASA Administrator Jim Bridenstine in honor of Dr. Justice's outstanding contributions to the Agency's mission. The award recognizes his 'generous leadership in the development and success of the world class LANCE system, transforming the way NASA Earth observation data are used throughout the world.' For the last 10 years he has also served voluntarily as Chair of the LANCE User Working Group, passing the torch to Miguel Román in 2019. 
"Professor Justice has been an innovative leader in developing new uses for remote sensing and Earth observation data to improve agricultural monitoring and decisions related to food security around the world. I'm delighted that NASA has recognized his tireless and life-changing efforts with this prestigious award," said Gregory F. Ball, Dean of UMD's College of Behavioral and Social Sciences.
With the daily coverage of EOS MODIS and in the face of unforeseen natural disasters and the growing need for near-real-time data, NASA recognized increased dependence on rapid data availability to serve the military, weather agencies, and first responders, making the decision to commission LANCE in 2009. LANCE, built upon the initial success of the MODIS rapid response system developed by Justice, Ed Masuoka, and the MODAPS team at NASA GSFC and the Fire Information for Resource Management Systems (FIRMS), managed by Diane Davies [GSFC]. In a concerted response to the needs of researchers and operational agencies, the LANCE (Land, Atmosphere Near real-time Capability for EOS) system was formally established to generate reliable near-real-time (i.e. within three hours of observation) data products for many of NASA's Earth observing instruments on the Terra, Aqua, and Aura satellite missions. "The importance of maintaining the integrity of the data while serving the needs of the NRT community was of utmost importance to NASA and finding the right Chairman to steer the future of LANCE led to selection of Chris Justice." said Karen Michael [GSFC/LANCE Manager].
"He was sought for his vision, experience and proven track record in public service," according to Dr. Justice's award nominators at the NASA Goddard Space Flight Center, Karen Michael, Diane Davies, and Dawn Lowe. "Chris has an incredible vision for extending science into applications and this is matched with a drive to build capacity and see broader communities benefit from satellite Earth observations. As LANCE UWG Chair his wealth of experience and in-depth knowledge of both the science and applications communities proved invaluable. I feel privileged to have worked with him and I am delighted to see his work recognized by NASA through the Distinguished Public Service Medal," adds Davies.
He has played a vital role over the last decade, helping to develop key products, services, and data distribution plans which have transformed how Earth observation data is used as well as vastly increased worldwide data accessibility. He has had great impact in defining policies and standards for LANCE, both solidifying data integrity as well as increased data frequency. Under his guidance, LANCE is now a well-established capability available to governments, NGOs, and the public, providing essential data and imagery for: severe storms, raging fires, volcanoes, ash and smoke plumes, dust storms, floods, drought, sea ice for shipping, air quality, and vegetation for agricultural monitoring.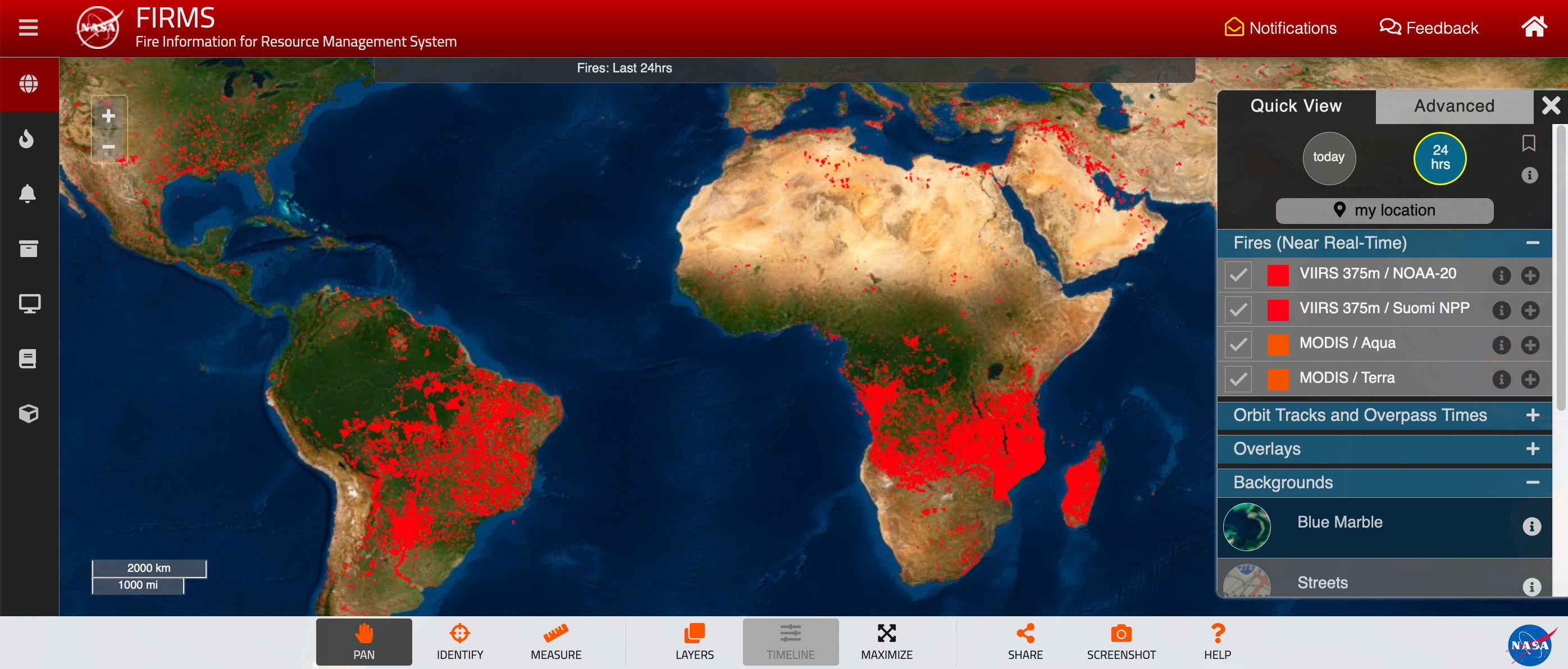 Dr. Justice has contributed to NASA throughout his career and currently serves as NASA Harvest Chief Scientist, Project Scientist for NASA's Land Cover/Land Use Change Program, the Land Discipline Leader for the NASA Moderate Imaging Spectroradiometer and the Soumi-NPP VIIRS Science Team. As Co-Chair for the international GEOGLAM initiative he has been spearheading agricultural monitoring research over the last two decades, dedicating his time and energy to improved agricultural monitoring using Earth observation data for informed decision-making and increased food security. His efforts within the framework of GEO are towards increasing the use of satellite data to enable early warning of potential food disasters, analyzing agricultural land use, promoting sustainable farming practices, bringing together experts across various agricultural sectors, and fostering global food security.
Recognizing that collaboration and teamwork have been essential to this success, Dr. Justice says, "I am deeply honored to receive this prestigious NASA award and very much appreciate this recognition. The near real-time (NRT) capability for EOS and User Working Group was established by Martha Maiden (NASA HQ) in 2009 and due to the usefulness of near real-time data, has grown to include NRT data from other NASA sensors. Today, LANCE's data distribution has grown to over 16 Terabytes of data per week to users in over 200 countries. I would like to emphasize that the success of the NRT data delivery system (LANCE) is due to the long-standing commitment of Kevin Murphy and the dedication of Dawn Lowe, Karen Michael, Diane Davies and the excellent team at NASA Goddard responsible for its implementation."