A group of Chinese scholars who either graduated from Geographical Sciences, or worked in the Department as visiting students or scholars, recently donated 17,550 surgical masks to the Department, to help with the COVID-19 emergency. The majority of these masks have been forwarded to the Prince George's County Hospitals and the local Fire Department on behalf of the Department. The group members come from different universities, research institutes, and private companies in China. In the letter to Chris Justice, the Department Chair, they wrote that, "Our experiences at UMD Geography have greatly benefited our personal and institutional academic and engineering research development. We want to take this opportunity to express our appreciation."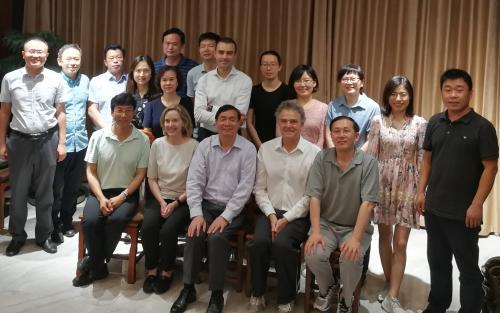 The UMD Department of Geographical Sciences has an excellent international reputation, and is particularly popular in China, attracting many Chinese students and visitors each year. We have established solid long-term collaborations with multiple Chinese universities and research institutes. Dr. Shunlin Liang from the Department has been helping with coordinating with our Chinese colleagues on the mask delivery. On receiving this news, Chris Justice said, "This very kind and generous gift from our Chinese colleagues is a touching example of our strong and continued international academic relationships with China in these globally challenging times."
The full list of universities and research institutes the donors are associated with or graduated from:
Aalto University
Beihang University
Beijing Climate Change Research Centre
Beijing Forestry University
Beijing Institute of Technology
Beijing Normal University
Central China Normal University
Changjiang Water Resources Commission of the Ministry of Water Resources
Chinese Academy of Agricultural Sciences
Chinese Academy of Meteorological Sciences
Chinese Academy of Sciences, Aerospace Information Research Institute
Chinese Academy of Sciences, Institute of Geographical Sciences and Natural Resources Research
Chinese Academy of Sciences, Institute of Tibetan Plateau Research
Chinese Academy of Sciences, Institute of Soil Science
Chinese Academy of Sciences, Institute of Urban Environment
Chinese Academy of Sciences, Research Center for Eco-Environmental Sciences
Chinese Academy of Sciences, Northwest Institute of Eco-Environment and Resources
Chinese Academy of Sciences & Ministry of Water Conservancy, Institute of Mountain Hazards and Environment
Chinese Academy of Surveying and mapping
Hohai University
Ministry of Ecology and Environment Center for Satellite Application on Ecology and Environment
Nanjing University
Peking University
Shandong University
Shandong University of Science and Technology
Sun Yat-sen University
Tsinghua University
University of Science and Technology Beijing
Wuhan University
Xi'an Jiaotong University
This story was also published in Maryland Today.