Commencement Ceremony Information
---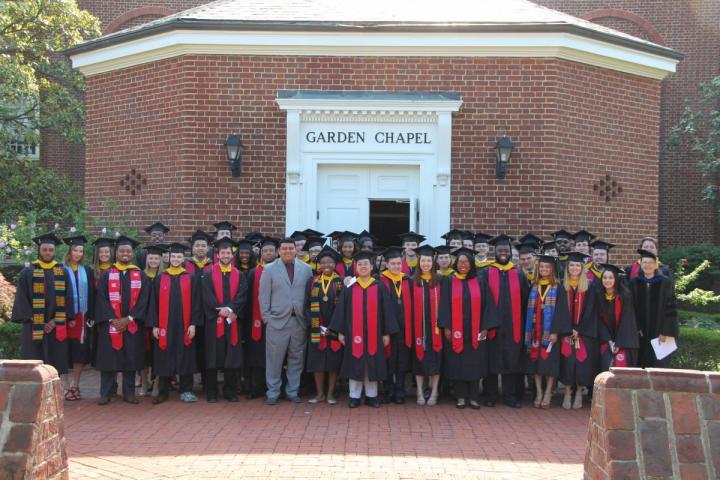 Spring 2022 Commencement
The Department of Geographical Sciences Spring 2022 Commencement Ceremony will be held Thursday, May 19th, 2022 at 12:00pm in the UMD Memorial Chapel. This year, graduates from Spring 2020 onwards are invited to participate in the ceremony. No tickets are required for students or guests. Arrival times, regalia information, parking, disability accommodations, and more will be emailed to graduates through the geog-commencement listserv beginning in February. If you expect to graduate and have NOT been receiving e-mails please contact Dr. Amanda Hoffman-Hall at ahall2 [at] umd.edu.
---
Undergraduate Students, please consider taking our Senior Exit Survey prior to graduation day.
---
The University's Campus Wide Commencement Ceremony will be held at Friday May 20th, 2022 at 11:00am in the Maryland Stadium. For more information, visit www.commencement.umd.edu, contact events [at] ur.umd.edu, or call 301.405.4638.
Frequently Asked Questions
Q: Do I have to apply for graduation?
A: Students who will be finishing degree requirements this semester and intend to graduate must apply for graduation. The Application for graduation is due by the end of the add/drop period for the semester in which they intend to graduate electronically via Testudo.
Q: Do I have to attend either of the commencement ceremonies?
A: Participation in the campus-wide and departmental ceremonies are encouraged, but not mandatory. If a student chooses not to participate in the commencement ceremonies, he/she will still receive their diploma.
Q: Where do I purchase regalia?
A: Regalia must be worn to participate in any commencement ceremony (active duty military may choose to wear their dress uniforms). Regalia can be purchased through the University Book Center in the Stamp Student Union. Undergraduates should purchase the Bachelor of Science regalia, while Masters students should purchase the Master of Science regalia. PhD students should contact Amanda Hoffman-Hall for more information. 
Q: I am a double major. Which ceremony do I attend?
A: Students can choose to attend both departmental ceremonies, only one ceremony, or neither.  Attendance is at the discretion of the student.
Q: Will I receive my diploma at graduation?
A: No, you will not receive your diploma at graduation. Your diploma will be sent to the diploma mailing address specified at the time the student's application for graduation was submitted.  If a diploma mailing address was not specified, the diploma will be mailed to your permanent address.
Q: Do my guests need tickets to attend graduation?
A: For the Campus-Wide Ceremony, please visit https://umd.edu/commencement/tickets for ticket details. For the Geographical Sciences Ceremony NO tickets are required and there is NO limit to the number of guests you may bring. 
Accessibility Information
The University of Maryland is committed to promoting the full participation of all individuals with disabilities in the Commencement exercises. If you require any ADA accommodations, please contact Catherine Miranda at cmirand2 [at] umd.edu or Amanda Hoffman-Hall at ahall2 [at] umd.edu.
---
Commencement Video Archive
Fall 2017 Commencement
The Geographical Sciences Fall 2017 Commencement Ceremony was celebrated in conjunction with the College of Behavioral and Social Sciences. It was held on Wednesday December 20th, 2017 at 12:00 pm in the XFINITY Center. 
Thank you to BSOS for live-streaming the ceremony! You can watch on the video above, or on their YouTube Channel. 
Spring 2017 Commencement
The Geographical Sciences & Anthropology Graduation Spring 2017 Ceremony took place on Saturday May 20th, 2017 at Noon in the Memorial Chapel. 
Thank you to the Philip Merrill College of Journalism for live-streaming our ceremony! You can watch on the video above, or on their YouTube Channel.